Toledo is known for the medieval Arab, Jewish and Christian monuments in its walled old city. Located only a 30 minute train ride from Madrid it's a great day trip locale. Here are just some of the highlights:
Here is the approach to the city.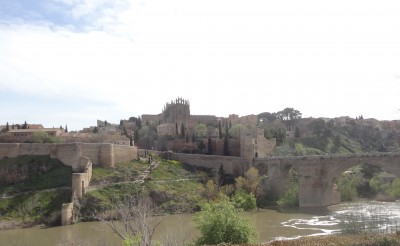 Filled with many examples of Spanish Gothic art the church sits on the site of a former Muslim mosque. Construction as a church began in 1226. This is just one part of the cathedral- The altarpiece in the main chapel has five sections, depicting scenes from the New Testament, along with life-sized polychromatic sculptures made of gilded wood. It was commissioned by Cardinal Cisneros and made between 1497 and 1504.
.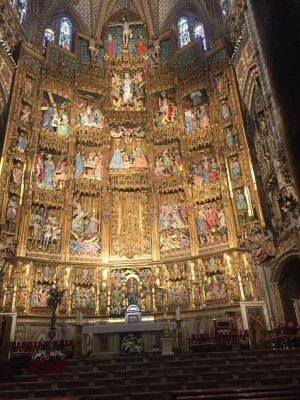 This large sculpture is called El Tracnsparente – the Transparent- it's a Baroque sculpture finished in 1732 and made of marble, alabaster and golden bronze. Note the beautiful painted ceiling above it.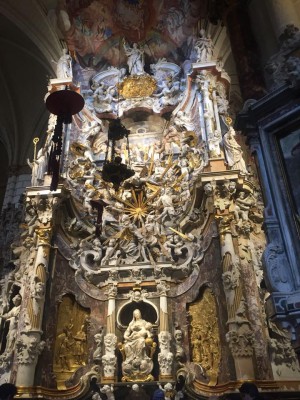 Outside of the cathedral.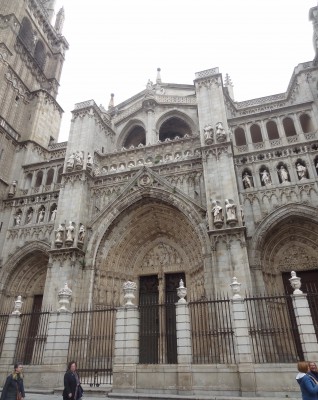 Some of the stained glass in the interior.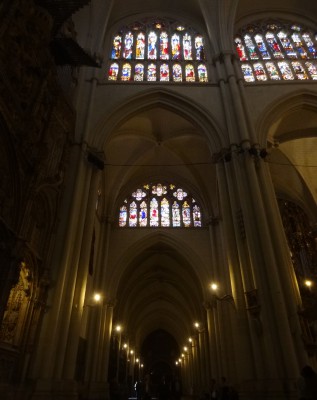 The Main Synagogue of the Toledo Jewish Quarter. It was built at the end of the 11th century.Considered the oldest synagogue building in Europe still standing.It is unique among surviving buildings as it was constructed under the Christian Kingdom of Castile by Islamic architects for Jewish use. It is considered a symbol of the cooperation that existed among the three cultures that populated the Iberian Peninsula during the Middle Ages. It became a Catholic Church in the early 1400's and is now known as Santa Maria Blanco.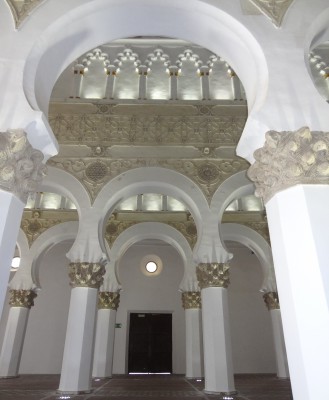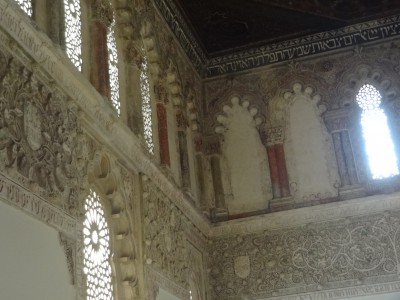 No these aren't tapestries, they are carvings!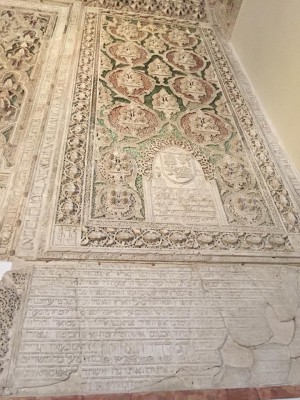 Close up view: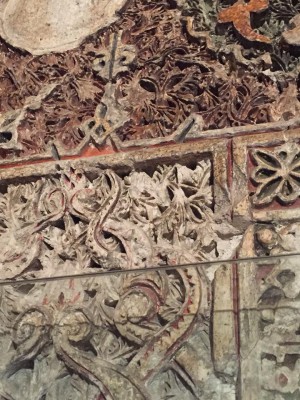 While there is no Jewish life left in the city (impact of the Inquisition of course) the Jewish history of the area is being remembered.